cool peace coffee mug of the Day
Another one of Top Pun's unique cool coffee mugs to share liberally with others.  Top Pun has designed an enormous array of cool and funny peace coffee mug designs for you and political operatives around the world. Top Pun loves to share funny, serious, and seriously funny coffee mugs with all fun-loving folks.  Top Pun offers cool and funny designs featuring political and social justice issues in diverse design categories, such as political, peace, peace signs, anti-war, LGBT, public health, Martin Luther King, Jr. and spiritual-religious.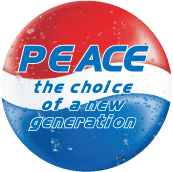 peace coffee mug
PEACE – The Choice of a New Generation PEACE COFFEE MUG
PEACE – The Choice of a New Generation PEACE COFFEE MUG
The above coffee mug graphic links to Coffee Mugs, but this graphic and all impressive peace coffee mug designs are available on cool and unique products such as T-shirts, buttons, bumper stickers, stickers, mugs, posters, caps, key chains, and magnets. Feel free to browse all of Top Pun's funny, serious, and seriously funny T-shirts, buttons-pins, bumper stickers, stickers, or posters. Or, browse peace products for the coolest peace designs and products on the world-wide web.
Check out these other cool design titles as coffee mugs:
Support Our Troops – Work for Peace – Justice for Veterans – Bring them Home NOW – PEACE COFFEE MUG
Justice Is No Yoke – Isaiah 58:6-PEACE COFFEE MUG
Teach Peace Its Not Academic-PEACE COFFEE MUG
Let's Try Preemptive Peace. PEACE COFFEE MUG
All Weapons Are Boomerangs-PEACE COFFEE MUG with weapon graphic
The Pun is Mightier Than the Sword – Hit em in the Groan-FUNNY PEACE COFFEE MUG
Peace Design Subcategories:
NON-VIOLENCE PACIFISM ANTI-VIOLENCE
ANTI-GUN VIOLENCE FUNNY PEACE
PEACE DOVE Graphics ANTI-GUN Graphics
ALL Peace
These cool peace coffee mugs are brought to you by TopPun.com, where Top Pun, a peace activist, creates cool STAINED GLASS designs and graphics.